Smugglecraft Update!
July 16th, 2016
A Whole New UI, A New Fantastic Crafting View.
One of the key elements of Smugglecraft is the ability to build and customize your very own hovercraft. Every cockpit and every wing has a completely different effect on its overall stats, from the hovercrafts max speed to its ability to drag. Every area of interaction is important, from gameplay to start menu to the credits screen. As developers, we focus on interaction. How is interacting with our game fun, compelling, and exciting?
This week, Joey completely revamped and rebuilt the Crafting UI from the ground up. After much play testing, we discovered that the original Crafting UI was a little confusing to the players. As game developers, player interactivity comes first, and if any area of the game we sense feels even slightly confusing, it is up to us to have the player be able to have an "Ah ha!" moment, rather than having decipher something that isn't an in-game puzzle. We understand that sometimes, it can be hard to let go of something you worked so hard on (we spent many an hour building and designing the old Crafting UI). But in the end, we want to give the players the most immersive and smoothest experience as possible, and making the necessary adjustments, even if it takes some extra blood,sweat, and tears, is TOTALLY worth it.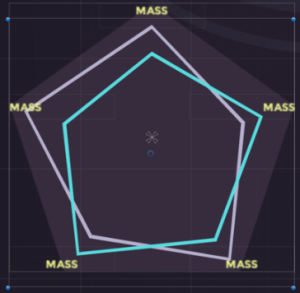 In fact, building the new Crafting UI was pretty fun! It's great overcoming challenges to help enhance the user experience. We
knew from playtests what resonated with players and what didn't, so we built the new UI thinking about how to improve what players didn't understand, while further enhancing the areas that they did. Joey had to math pretty hard to calculate move amounts for the inventory grid and when to move them properly, but the end result is pretty awesome. Theres even a new panel that allows the stats to be viewed on a pentagon grid (if you follow us on instagram, you got a sneak peak at this

)!
The new and improved UI feels a lot better and looks snazzier. A huge thank you to the many play testers that helped us understand the Crafting UI better! We're working hard to give you the best Smuggling experience as possible!
Stay tuned for my dev updates from your favorite indie dev, Happy Badgers Studios.